Deanna Arnett, Executive Director
Deanna Arnett earned her Bachelor of Science in Family and Community Services from Michigan State University in 1998 and her Master of Arts in Family Life Education from Western Michigan University in 2010. She has dedicated her career to working with women and children survivors of violence, working for such organizations, as The Council Against Domestic Assault, Spectrum Human Services and Angel House. In her free time Deanna serves on the advisory board for Dream Center of Lansing and is also a Youth Leader at her local church.
Case Manager (Now hiring)
Sharon Matthews, Weekday House Manager (Monday-Wednesday)
Sharon Matthews joined Hannah's House, as a House Manager, in February of 2017. She retired from the State of Michigan in 2011, after 25 years of work experience in the information technology field. She possesses a master's degree from Western Michigan University, majoring in Public Administration, with emphasis in state policy administration. Also, she earned a business administration bachelor's degree from Northwood University, double majoring in computer Information Systems Management & Business Management. In addition, she obtained an associate's degree from Davenport University, double majoring in computer programming & accounting. Sharon has been a local resident for 46 years. She's the mother of two successful, young adult sons. Furthermore, she's the church secretary and an usher at Paradise Missionary Baptist Church where she has been a member for 23 years.
Weekday House Manager (Wednesday-Friday) Now Hiring
Elizabeth Galer, Weekend House Manager
Elizabeth (Liz) is the oldest one in her family of 8 children (3 gals, 5 guys), who span 20 years!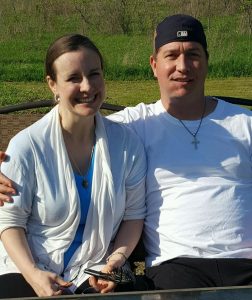 Her spirituality is Roman Catholic, though she was raised in a charismatic ecumenical community and feels at home among different Christian faiths. Adoption is in her family history. Her father was adopted and went looking for his birth parents as an adult, and her family has had a wonderful relationship with his birth mother for almost 30 years- she is courageous, classy, and an accomplished woman who Liz loves and admires so much, and whom she learned a great deal from when she found herself pregnant and alone 11 years ago. Liz also gave her daughter up for adoption, and she sees her about once or twice a year and feels so blessed to be able to see how well loved and cared for she is as she grows up. GOD IS GOOD, and He writes straight with crooked lines! Liz is currently dating a Catholic man, Brian, who loves and supports her in the Hannah's House ministry. Liz loves her faith, and the number one desire of her heart is to know and love the Lord Jesus with all of her heart, mind, soul, and strength for all of her life and into eternity! Her family is her delight and her pain, her friends love her heroically, and her life is blessed beyond measure!
Weekend House Manager (Now Hiring)